The Passports to Success (PTS) program is designed to give foster youth much needed life skills before they leave the system. The unique curriculum was created by Trinity Wallace-Ellis and Bryan Nash, former foster youth who understand the challenges these youth face. Noted child psychologist and foster care consultant, Dr. Greg Manning, also helps with the curriculum and facilitates the workshops.
Sadly, most foster youth are emancipated without the skills needed to function as independent adults. The statistics are dismal and the cost to these children and to society is immense as 80% of prison beds and 3 out of 10 homeless are former foster youth.
The Eddie Nash Foundation partners with corporations and private sector organizations to teach the youth (ages 14-21) real life scenarios and lessons rather than using textbook theories. Our workshops have had Chick-fil- A teaching them to stand out in a job interview; JAMS (Judges and Mediators) Foundation teaching them how to resolve conflict and stay out of the courts; and Union Bank providing insight on financial needs versus wants.
Another critical component of the program is to have the foster youth learn side-by-side with a trusted adult. Those who attend without a caregiver are partnered with an Eddie Nash Foundation volunteer. These community volunteers come from all walks of life and bring support and experiences that give the foster youth fresh perspectives on adulthood.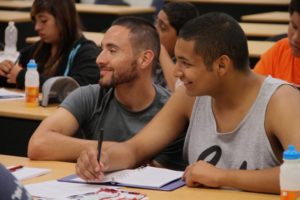 The program enrolls 30 to 50 youth per session in order to maintain a one-on-one experience. Too often these youth become a mere number to the world. In PTS, each youth is treated as a highly valued individual.
Classes occur monthly and each workshop focuses on a specific topic.
ENF encourages local corporations and individuals to join us in this effort. If you are interested, please call 1-866-470-1888.